Our Mission
The world is facing enormous challenges and disruptions. Globalization, migration and refugees flows, digitalization, financial and economic crises, environmental destruction and limited resources have fundamentally changed the way we think about economic, social and environmental issues. Policymakers, business leaders, and scientists alike must constantly challenge common wisdom and search for innovative solutions to reconcile economic needs with social goals and environmental conditions. Meeting the challenges of our time requires policy advice based on sound scientific evidence.
The goal of the Deutsche Post Foundation is to advance knowledge by supporting research in three main areas: labor markets, environment, and inequality. To this end, the Foundation funds three non-profit research institutes: IZA, briq and SUN.
History
More than two decades ago, the Deutsche Post Foundation was established by Deutsche Post DHL, the world's leading logistics company with over 500,000 employees in over 200 countries and territories. The global corporation has evolved since 1989 from the formerly state-owned Deutsche Post and is now Germany's largest employer. The company leaders saw this fundamental change not only from an entrepreneurial perspective but also as a matter of social responsibility. This was the motivation behind the establishment of the Deutsche Post Foundation.
The Deutsche Post Foundation was incorporated on December 9, 1996, and formally recognized as a non-profit institution on February 20, 1997. In order to ensure an adequate endowment, the foundation receives recurrent funding. It is subject to state supervision and control by the foundation authorities and the tax office.
As a non-operating foundation, the Deutsche Post Foundation provides funding to its institutes and other non-profit organizations that share the same objectives. To secure its long-term and sustainable financing, the Deutsche Post Foundation has accumulated parts of the grant and the resulting proceeds within its statutory requirements.
In addition to the IZA Institute of Labor Economics, which has developed into one of Germany's leading economic research institutes, the briq Institute on Behavior & Inequality and the SUN Institute Environment & Sustainability were established in 2015.
+++ Update (November 10, 2023): Information on the merging of IZA and briq +++
+++ Update (November 20, 2023): Statement from the Deutsche Post Foundation on the future of IZA +++
Funding
With an initial endowment of 5 million Deutsche Mark, the Foundation received recurrent contributions from Deutsche Post DHL until 2022, which were calculated on an annual basis according to sales revenue and/or personnel expenditure. The final grant in 2022 amounted to approximately 20 million euros.
The Foundation was required to build up a capital stock that would ensure financial sustainability even after the end of the institutional funding by Deutsche Post DHL. At present, most of the Foundation's funding activities are dedicated to its three institutes while a small share goes into other projects that meet the philanthropic goals of the Foundation.
To keep administration costs low, certain specialized services such as data processing are provided by IZA. Bookkeeping and financial statements are handled by a tax consultancy in Bonn. The Foundation and the three institutes are also audited annually on a voluntarily basis by an auditing company. To date, an unqualified audit opinion has been issued for all business years.
Organization
The Deutsche Post Foundation is a non-profit institution which acts independently of its founder, Deutsche Post DHL. The foundation, its bodies, and its activities serving the public good are not guided by corporate interests.
Managed by the Board of Trustees and the President, the non-operational foundation has clearly defined funding priorities.
Board of Trustees
According to the statutes, the Board of Trustees is made up of individuals who are independent from Deutsche Post DHL and must not be subject to corporate decisions.
Members (as of Feb. 1, 2023):

Pictured from left to right:
- Dr. Hans-Dieter Petram, Chairman (Former board member of Deutsche Post DHL)
- Dr. Aiko Borchert (General practitioner)
- Prof. Dr. Edgar Ernst (Member of multiple supervisory boards, former President of the Financial Reporting Enforcement Panel)
- Prof. Dr. Herbert Henzler (Consultant, former Chairman of McKinsey Europe)
- Michael Volkstedt (Business administrator)
In addition to electing and advising the President, the Board of Trustees also controls budgetary matters.
President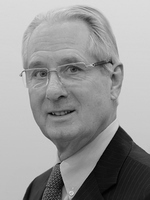 Dr. Klaus Zumwinkel has been President of the Deutsche Post Foundation since the beginning. After ten years at McKinsey and five years as CEO of one of the largest German retail companies, he spent more than eighteen years as CEO of Deutsche Post DHL. He successfully transformed the organization from the state-owned German Postal Service into one of the largest logistics companies in the world, active in more than 200 countries with 500,000 employees. He was Chairman of the Supervisory Board of Deutsche Telekom and Board Member of many international firms including Lufthansa and Morgan Stanley. Today he pursues several international activities while serving as President of the Deutsche Post Foundation, which is an unpaid position.

Scientific Council
Chaired by the President, the Scientific Council meets once a year to advise the Deutsche Post Foundation on strategic matters. It consists of the council members of the three institutes (briq, IZA, and SUN):
- Ida Auken, Member of the Danish Parliament, former Minister of Environment
- Dr. Aiko Borchert, General Practitioner
- Prof. Janet Currie, Ph.D., Princeton University
- Bärbel Dieckmann, former Mayor of Bonn
- Vera Günther, Co-founder, mimycri
- Prof. James J. Heckman, Ph.D., University of Chicago, Nobel Laureate 2000
- Prof. Dr. Jürgen Kluge, Business Consultant, former CEO Franz Haniel & Cie.
- Prof. Ulrike Malmendier, Ph.D., University of California, Berkeley
- Dr. Thomas von Mitschke-Collande (Chairperson), Business Consultant, former Senior Partner McKinsey
- Prof. Andrew J. Oswald, Ph.D., University of Warwick
- Prof. Sir Christopher A. Pissarides, Ph.D., London School of Economics, Nobel Laureate 2010
- Dr. Frank-Jürgen Weise, former CEO of the Federal Employment Agency and the Federal Office for Migration and Refugees
- Ulrich Wilhelm, Journalist and Laywer, former Spokesperson of the Federal Government
This is how you may reach us:
Deutsche Post-Stiftung
Schaumburg-Lippe-Str. 9
D-53113 Bonn